The Radon Vac

™

provides the first effective and affordable way to reduce radon levels in existing homes. The unique system consists of a plug-in fan, exterior hood and installer-purchased PVC pipe. Because the Radon Vac side wall system evacuates through the basement side wall, homeowners can avoid having PVC pipe run vertically through living areas or outside of their homes to the roof line.

The Radon Vac fan is engineered to reduce radon across a variety of sub-slab soil types (dirt, gravel, etc.). It features a sealed, galvanized housing and a PSC permanently lubricated, quiet, low watt motor. Unlike traditional radon fans the motor is not exposed to air stream moisture.

The corrosion-proof Radon Vac Variable Aspiration Control Hood dilutes the radon gas with fresh outdoor air as it exits the hood and safely propels it away from the structure. Airflow velocity is easily adjustable at the hood to accommodate the length of pipe run and whether the radon is being drawn from a sump pit or below the basement floor.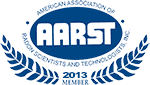 Installation of the Radon Vac system requires a four inch hole through the home's basement rim joist and exterior finish, plus enough three inch PVC pipe to run from the radon extraction point to the Vac hood. The fan is typically installed between floor joists. A rubber isolating mounting bracket eliminates vibration transfer and rotates 360 degrees to accommodate any orientation.
---

See the Radon VAC

™

Hood - Smoke Demonstration Video

Radon is a national environmental health problem. Elevated radon levels have been discovered in virtually every state.

The EPA estimates that as many as 8 million homes throughout the country have elevated levels of radon. State surveys to date show that 1 out of 5 homes have elevated radon levels.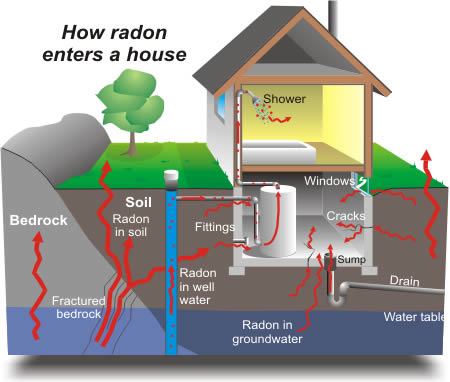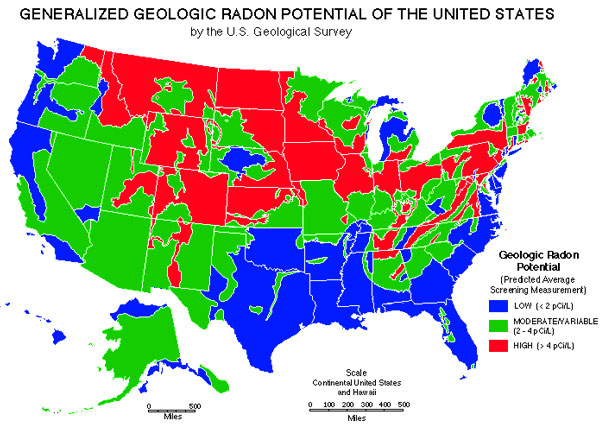 ---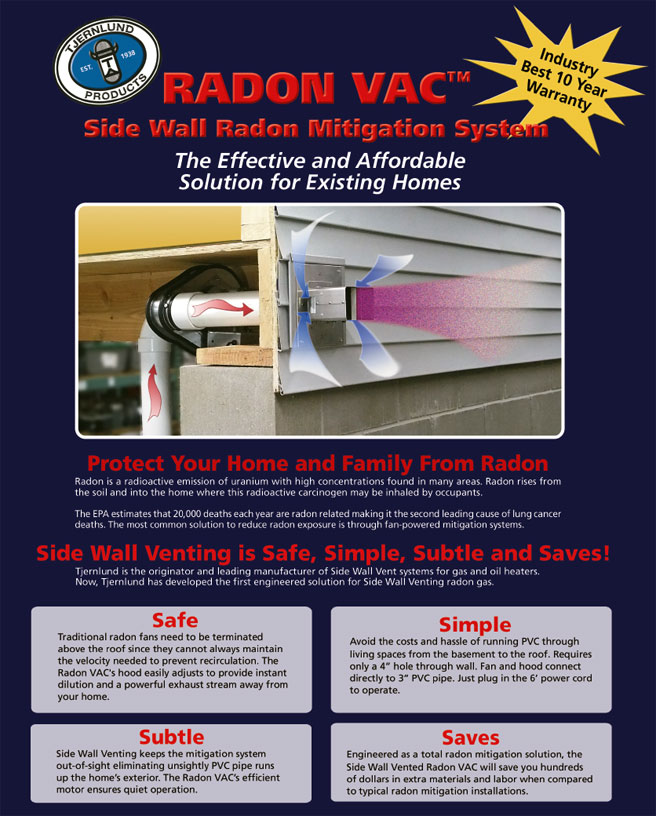 Dilution is the Solution
The corrosion–proof hood infuses outdoor air into the exhaust to dilute it. This mixture is further diluted as it is propelled away from your home in a jet of air.

Perfect for Existing Home Retrofits




Often radon issues are found in finished homes making the long pipe runs of typical systems costly and impractical. Side wall venting with the Radon VAC requires only a 4" hole through the basement rim joist and a fraction of the PVC.

Quiet, Efficient Operation




PSC permanently lubricated ball bearing motor is not exposed to moisture in the air stream. Uses only 50 watts. Engineered to reduce radon across a variety of sub-slab soil types (dirt, sand, gravel, etc.). Features 6' power cord.

Variable Aspiration Control
Easily adjust the discharge hood to match your system needs. This allows the Radon VAC to operate in sub-slab or sump pit installations and with different pipe runs while always producing a strong stream of diluted exhaust.
Easy Installation
Both fan and hood directly connect to 3" PVC—no rubber couplers needed as with other fans. Rubber isolated mounting bracket eliminates vibration transfer and rotates 360° to accommodate any orientation. Mount vertically or horizontally.

Sealed Housing for Safety
Custom-fitted gaskets throughout the fan prevent radon gas leakage. Features heavy duty galvanized steel housing and powerful backward inclined steel impeller.

PVC4 Radon Mitigation System Booster Fan

The lowest cost radon mitigation fan on the market! Improve the performance of passive radon mitigation systems easily and inexpensively with the PVC4 Booster Fan. The PVC4 connects directly with 4" Schedule 40 PVC and comes with a 6' power cord. Installs in 5 minutes. Add the PVC4 to your system for an instant performance boost!

90 CFM | .3" Max Static | 18 Watts | .3 Amps



| | | |
| --- | --- | --- |
| PVC4 Inside View | PVC4 Installed | PVC4 Dimensions |




R-Series Traditional Radon Fans

R-Series fans offer high performance for radon mitigation. Quiet and efficient, these fans offer steady operation. Compatibility with Tjernlund rubber couplings allows for easy installation. A variety of rubber couplings are available at the bottom of this page.

Constructed of a molded fiber glass material. The housing are UV resistant and will not yellow over time (R4B, R4BC are powder coated steel). German made EBM-style motors and 5 year full replacement warranty mean excellent performance for years to come.

Tjernlund's R-Series provide a wide array of fans for any radon mitigation application. Reference the charts below to find the best fit for your installation.





Fan Failure Alarm



Tjernlund's Mitigation System Alarm alerts the homeowner of a fan failure or other issues. Ideal for remotely located systems that may not be inspected regularly. Audible and visual alarms instantly alert homeowners when a lack of system pressure is detected. Can be wall or pipe mounted. Includes cord, hardware and tubing. Compatible with any model fan or subslab depressurization system layout.

Diluting radon concentrations with outdoor air is an effective and affordable way to decrease radon exposure in homes. Tjernlund Radon Ventilation Fans are the effective, affordable way to reduce radon in homes with moderate (10 pCi/l or less) radon levels.*

RX2 Ventilator


For Basements and Sealed Crawl Spaces

The RX2 Radon Ventilator includes 2 reversible fans that can be set to exhaust radon, supply fresh air, or positioned with one fan in each direction for a balanced air exchange. At 220 CFM, the RX2 ventilates a 20' x 40' x 8' basement twice per hour and uses only 32 watts.

Needs only a 5" x 12" opening through the rim joist or outside wall. Comes with 6' power cords and exhaust hood. Run it continuously or with a plug-in timer. Also helps reduce basement humidity.


One Fan:

110 CFM | .3" Max Static | 16 Watts | .3 Amps




Two Fans:

220 CFM | .3" Max Static | 32 Watts | .6 Amps





Three Air Flow Options

Easily reverse the direction of the airflow to:



Exhaust Radon Supply Fresh Air Balance Air Exchange




---

RV2 Ventilator


For Ventilated Crawl Spaces

The RV2 Radon Ventilator exhausts radon and other harmful soil gases and allows fresh outdoor air to replace them. At 220 CFM, the RV2 ventilates a 20' x 40' x 3' crawl space over 5 times per hour while using only 32 watts.

Simply mount the unit against a vent opening with the included hardware and plug it in. For even greater results multiple units can be installed. Run it continuously or with a plug-in timer. Also helps reduce crawl space humidity.


220 CFM | .3" Max Static | 32 Watts | .6 Amps